Photos and information on my tesla coil
<!img src="chip4.jpg">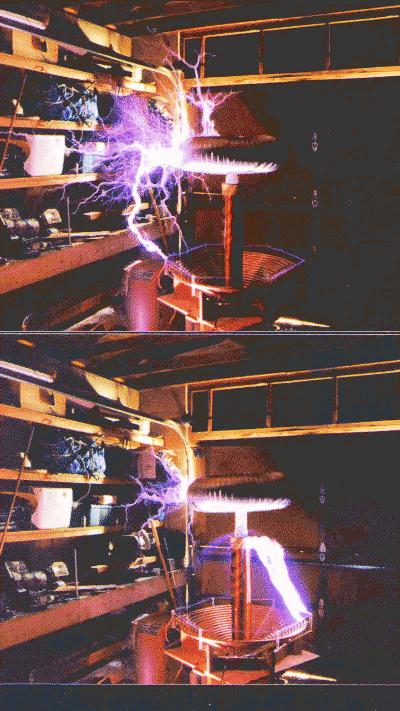 The top image shows my coil in operation. The sparks are emanating from the left side, with one spark hitting the strike rail above the primary winding. Note the faint corona on the strike rail.
The bright vertical streak at the bottom of the screen is a jet from the spark gap. This gap consists of one gap with an air blast (~20psi) to blow out the spark.
The bottom image shows the same coil in operation, with a few sparks emanating from the toroid, and the majority of the sparks emanating from the top turn of the winding.
This image shows several interesting coil features. The first and most obvious is the sparking from the secondary winding to the strike rail. The sparking is facilitated by the height of the toroid. You can see that the toroid in the bottom image is considerably higher than in the image above. Another feature to note is the corona. Although faint, one can see that it extends in a cone with its apex at the top turn of the secondary.
---
The specifics of the coil are:
Input Power
120v line current in
15000v, 150 ma out to primary
Primary Circuit
0.0177uF Home made rolled capacitor
16 turn primary coil 6" diameter at the center, 16 turns, 3/8" soft copper tubing spaced 3/8" apart
30 degree banking. Tapped at 12th turn.
Secondary Circuit
950 turns 24ga. magnet wire, close wound.
4" diameter pvc drain pipe, capped on both ends.
7"x22" toroid, about 5" from top of secondary coil.
Secondary coil is sealed with Behr's Build 50 Super Gloss decopauge stuff. (Two part, epoxy based)
Max sparks so far: 50"
Photography: ASA 400, f11, auto shutter speed. Pentax ME Super. 28mm f2.8 lens. Mid day, garage window covered. (Hence the light leakage around the garage door).